Management and rehabilitation of coastal habitats and biodiversity for Climate Change Adaptation and Sustainable Livelihood in Gulf of Mannar
Project context
Climate change has become the most significant threats to coastal areas, posing serious harm to both the coastal ecosystem as well as coastal communities. The climate change impacts on the coastal zone includes increase in sea surface temperatures, increase in rain fall intensity, rising sea levels, increase in intensity of cyclones and storm surges. This in turn will impact the ecosystem and health of the dependent communities. The key coastal habitats such as mangrove, wetland, seagrass, estuary and coral reefs are of high importance for their functions and services like carbon management potential and increase of resource productivity for livelihood to dependent communities. They are vital for the food security of coastal communities in developing countries, providing nurseries and fishing grounds for artisanal fisheries. Hence considering all those effects it is mandatory to undertake this kind of project to build resilience among coastal ecosystems and communities through habitat recovery and improvement and sustainable livelihood development. Under the National Adaptation Fund for Climate Change, the captioned project is implementing successfully with a positive outcomes.
Project Sanction
The Project "Management and rehabilitation of coastal habitats and biodiversity for Climate Change Adaptation and Sustainable Livelihood in Gulf of Mannar, Tamil Nadu, India" was approved by the Ministry of Environment, Forests and Climate Change, Government of India, under the Grants-in-Aid component of the National Adaptation Fund for Climate Change (NAFCC) at a total cost of Rs. 24.74 crores(2016-2020).
Objectives:
To carry out a baseline study to assess vulnerability to climate change of both coastal ecosystems (including biodiversity and fishery) and coastal communities in the Gulf of Mannar.
To restore Habitats (Coral reef and sea grass rehabilitation) in Kariyachalli and Vilanguchalli Islands as a climate adaptation strategy.
To build climate change resilience to the fast eroding Vaan Island through deployment of artificial reef modules.
To promote Eco development activities among coastal communities to enhance their adaptive capacity and to sustain livelihood and food security.
Potential contribution to climate resilience:
Baseline survey: The baseline data will provide the basis for adaptation planning and implementation of the restoration and rehabilitation activities and also the eco development activities. Coral reef rehabilitation and Artificial Reef deployment: Both the rehabilitated reefs and the artificial reefs will not only increase the biodiversity in the area, but will also protect the islands from erosion and submergence due to sea level rise. Further, these areas will provide sustained livelihoods for fishermen. Sea grass rehabilitation: The rehabilitation of sea grass ensures habitat creation for several corals, fish and associated species which will lead to protection of islands against the impacts of climate change. Eco-development adaptation activities: Climate change induced impacts such as sea level rise, coastal erosion are a constant threat to fishermen communities, therefore promoting an alternate source of income will ensure a steady income and an improved standard of living among the local communities. Through this project, the Coastal community can adapt effectively to overcome climate change impacts.
Project Activities:
The Climate Change Vulnerability studies of coastal communities and ecosystems along the 364.9 kms line of Kariachalli & Vilanguchalli Islands of Gulf of Mannar were carried out. Coral and Sea Grass Rehabilitation was done in 4.0 sq.kms degraded reef and sea grass habitat. Coral fragments of diverse native corals (8-11 cm size) were extracted from the donor coral reefs and tied with rope to the cement slabs (20 cm x 15 cm x 5 cm) which were deployed under water. About 6000 Nos. of Artificial Reef modules of Ferro-cement and Reinforcement Steel (each of the size 2.5m width, 2m height and 1m longitudinal length) were deployed near Vaan Island. The Ecodevelopment activities viz., infrastructure development, alternate livelihood activities, ecotourism activities, provision of micro-credit revolving funds, and nurturing of SHGs, etc., were undergoing in 23 coastal villages. The project work is nearing completion.
Area covered under the scheme
Baseline survey on coastal habitats and associated biodiversity between Rameswaram and Kanyakumari.
Assessment of current fishing pattern and Baseline vulnerability assessment of fishermen and coastal community and Eco-development Activities - 23 fishing villages of Tuticorin district.
Artificial Reef Deployment in Vaan Island, Tuticorin district.
Seagrass Rehabilitation and Coral Rehabilitation in Kariyachalli & Vilanguchalli Islands of Tuticorin district.
Project location - Gulf of Mannar, Southeast coast of India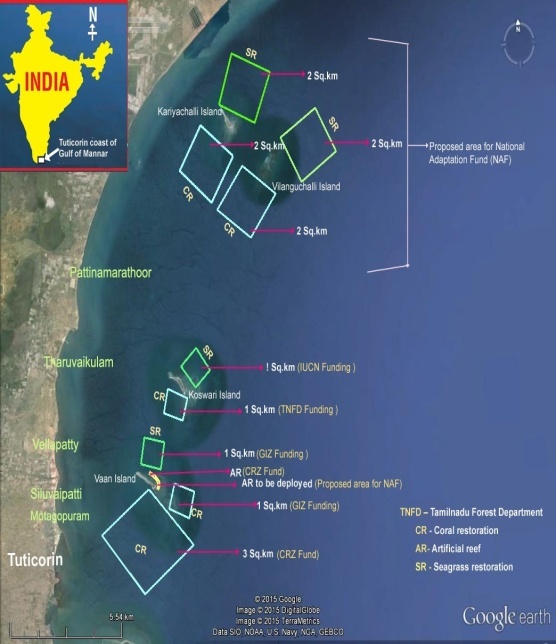 Benefits of the project
The protection of Vaan Island through deployment of Artificial Reefs helps to reduce coastal erosion in the nearby coastal area and to maintain the integrity of island ecosystem with rich coral reefs, seagrass beds and associated biodiversity.
Successful placement of AR modules surrounding the Vaan Island led to increase of soil accretion and expansion of island's size from 2.33 Ha (Dec. 2015) to 3.62 Ha (August 2019) during Low Tide line and 1.53 Ha (Dec. 2015) to 1.94 Ha (August 2019) during High Tide line, which provides reclaimed habitats for marine Biodiversity.
The deployed multipurpose artificial reefs aided to enhance the fish biodiversity and coral density in particular reduced the shoreline erosion of Vaan Island against the impacts of climate change and which is providing sustainable livelihoods for fishermen.
Coral reef rehabilitation and Sea grass rehabilitation will not only increase the biodiversity in the area, but will also protect the islands from erosion. It enhances the associated biodiversity in 4 sq.km of each in Kariyachalli and Vilanguchalli Island. Based on the fish species survey in the rehabilitation site a total of 21 and 18 Nos, coral associated fish species were recorded in Kariyachalli and Vilanguchalli Island, respectively during January 2018 to May 2019. Overall survival rate of the transplanted fragments exhibited highest and found in Kariyachalli Island with 97.39% whereas in Vilanguchalli Island with 95.32% accordingly. In seagrass rehabilitation percentage cover was gradually increased from 9.1% and 9.8% (January 2018) to 18.89% and 17.42% (July 2019) in Kariyachalli Island and Vilanguchalli Island, respectively.
The coral rehabilitation using climate resilient and resistant coral species help to withstand the coral reefs against the climate change impacts and to maintain the ecological services without loss.
The biodiversity survey between the Rameswaram and Kaniyakumari provides data to understand the present status of coastal habitats and associated biodiversity so as to take effective conservation and management measures focussing to address the climate change impacts.
The vulnerability assessment along the coastal villages provides data on the level impacts to the village due to climate variations and help to take appropriate remediate measures through need based interventions.
Under eco-development activities of this project, coastal communities in and around Tuticorin district are getting benefitted. Through training on livelihood schemes about 792 fisherfolk were benefitted. Awareness program were conducted in 64Nos. Ecodevelopment Committee (EDC) villages and in 8 different schools and colleges and about 21941Nos of coastal communities were participated. Due to this project activity, Coastal communities of Tuticorin district were getting benefitted in various aspects like Self Help Group (SHG) activities, Trainings, Infrastructure development etc.
Vaan Island Restoration – Artificial Reef (AR) Deployment
Aerial View of Vaan Island after deployment of AR modules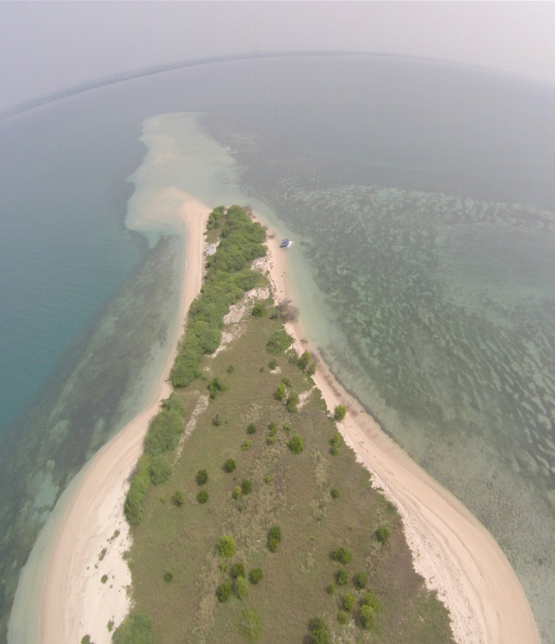 Vaan Island - Aerial view in May 2015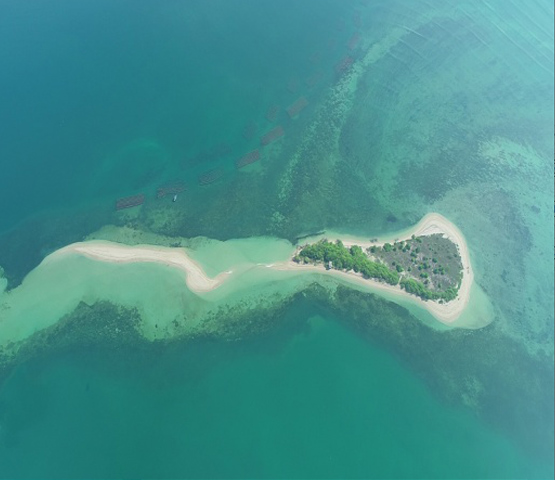 Vaan Island - Aerial view in Oct.2018